Our group member's experiences include presenting Docker to meetup.com/sf-devops, offering applications on the Google Market, trying Linux From Scratch, loading Puppy Linux on older hardware from RAM and installing OpenWRT on Linksys WRT54GL and other AP/routers.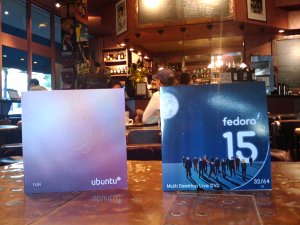 Members are also active in other groups such as
Rossmoor Computer Club,
Ubuntu-US-CA,
Fedora Project Ambassadors,
Partimus,
OLPC San Francisco,
CABAL,
BayLISA,
Bay Area Debian,
LinuxPicnic,
BerkeleyLUG,
BUUG,
BALUG,
SF-LUG,
Noisebridge,
North Bay LUG,
Peninsula LUG,
SVLUG,
Felton LUG,
Linux User Group Of Davis,
Sacramento LUG,
BayPiggies Python interest group and
Dreamfish.
Additional lists of regional and state groups include Bay Area Linux Events and CA state groups.
Some of us have experience on other flavors of Unix too like Solaris, HP/UX and AIX.
Special mention should be given to our friends at ZaReason in Berkeley. They are among a handful of companies who sell Linux preinstalled on desktops and laptops. They support our community through several of the above groups.