WC Time: second and fourth Friday at 7:00 PM. Meetings are informal and generally an hour in duration, depending on attendance. Drop-ins are encouraged. Sometimes we also interact with remote attendees through Interent Relay Chat.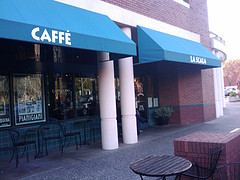 this month October 12th & October 26th
next month November 9th & November 23rd

WC Location: Caffe La Scala (Yelp link, Google Map) at 1655 N Main St (at Civic Drive), Walnut Creek, CA. It is primarily a coffee shop in downtown Walnut Creek. Free wifi. Good food (soup, pizza, sandwiches; vegetarian options) and drinks are available in a relaxing environment.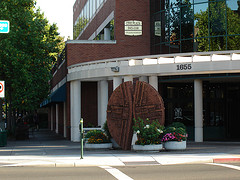 WC Parking & BART: Free parking is available at metered spaces after 6 PM. It can be tough to find a parking space close by so try to come a few minutes early. The closest paid lot is a block away at the Center for the Arts. Ask us for parking hints at a meeting. Walnut Creek BART is a few blocks away. Walking from BART takes about 10 minutes. There is also a "free ride" – the Route #4 Broadway Plaza bus/trolley that runs every 15 minutes. Look for the green "Free Ride" trolley. Get off the trolley when it turns right in front of the Center for the Arts, Civic @ Locust. Main St. is one block away.
Additional meetings would be great. We have held meetings at other locations in the past like Steeltown Coffee & Tea in Pittsburg. We support the efforts of individuals able and willing to host meetings in a spirit similar to Evan's Bay Area Debian rules. Not much more is required than showing up on a regular basis. Good location criteria start with a welcoming environment that has wifi and power available.

Thanks to some perl code we find these dates.

 $ echo $({ upcoming_meetings 2nd Fri | sed -ne '/^2019/q;p'; upcoming_meetings 4th Fri | sed -ne '/2017/d;/-12-25$/d;/^2019/q;p'; } | sort) | fold -s -w 72

2018-02-11 2018-02-11 2018-02-25 2018-02-25 2018-03-11 2018-03-11 
2018-03-25 2018-03-25 2018-04-08 2018-04-08 2018-04-22 2018-04-22 
2018-05-13 2018-05-13 2018-05-27 2018-05-27 2018-06-10 2018-06-10 
2018-06-24 2018-06-24 2018-07-08 2018-07-08 2018-07-22 2018-07-22 
2018-08-12 2018-08-12 2018-08-26 2018-08-26 2018-09-09 2018-09-09 
2018-09-23 2018-09-23 2018-10-14 2018-10-14 2018-10-28 2018-10-28 
2018-11-11 2018-11-11 2018-11-25 2018-11-25 2018-12-09 2018-12-09 
2018-12-23 2018-12-23